Graphano Alerts Investors on Warrants and Provides Corporate Update
Vancouver, British Columbia–(Newsfile Corp. – August 21, 2023) – Graphano Energy Ltd. (TSXV: GEL) (OTCQB: GELEF) (FSE: 97G0) (the "Company" or "Graphano") is pleased to provide a corporate update on warrants and project development.
Confirmation of Date Extension of Warrants and Exercise Price of Warrants
Exercise Price
The Company wishes to remind the holders of those common share purchase warrants issued August 27, 2021 (the "Warrants" and each, a "Warrant"), pursuant to the conversion of the subscription receipts issued December 22, 2020, and April 19, 2021, respectively (the "Subscription Receipts"), that the exercise price per Warrant into a common share in the capital of the Company (a "Share") is $0.52.
As background, each Subscription receipt automatically converted on August 27, 2021, into the underlying securities of (a) one Share, and (b) one common share purchase warrant exercisable until August 27, 2023, at $0.08 into an additional Share.
As disclosed in the Company's news release of September 2, 2021, a consolidation of the Company's then outstanding share capital was completed just prior to the listing of the Company's common shares on the TSX Venture Exchange on the basis of 1 post-consolidation common share for every 6.5 pre-consolidation common shares. All of the outstanding securities of the Company at such time were adjusted accordingly resulting in the exercise price of each Warrant into a Share being adjusted from the pre-consolidation exercise price of $0.08 to a post-consolidation exercise price of $0.52. The initial listing price was also amended from $0.05 to $0.325.
Expiration Date Extension
The holders of these Warrants are further reminded that, as previously announced in the Company's news release dated April 5, 2023, the expiration date of the Warrants was extended by 24 months from August 27, 2023, to now expire on August 27, 2025. All other terms of the Warrants, including the post-consolidation exercise price, remained the same. Therefore, each Warrant entitles the holder thereof to acquire one Share at a price of $0.52 until August 27, 2025.
Investors are alerted that the market price of the Shares is significantly depressed relative to the initial trading price. Shares are currently trading below cash per Share in the Company's treasury and below the exercise price of the Warrant instruments. The junior resource market is currently significantly depressed and unpredictable. The Company notes that the S&P/TSX Venture Composite Index is currently little more than half of its mid-February 2021 value and less than one-fifth of its value in April 2007.
Corporate Update
Following the completion of Phase II drilling at the Company's graphite projects, Lac Aux Bouleaux ("LAB") and Standard, the Company has engaged qualified engineering firms to determine a timely path to production.
Mercator Geological Services, a leading Canadian firm on resource estimation, was engaged by the Company to help design future drilling programs and to prepare a resource estimate for the LAB and Standard projects.
WSP Canada Inc. was engaged to perform an analysis of the permitting requirements to fast track the development of the Company's LAB and Standard projects, assuming an initial lower production quarry model.
Metallurgical testing, essential for the commissioning of a preliminary economic assessment planned for 2024, is expected to commence this month (August 2023).
Strategic partnerships – the Company has been approached by mining companies and end-users, which recognize the near-term production potential of the Company, for possible collaborations and is considering all options with the aim of maximizing shareholder value.
Financing – The Company has is in a good cash position to advance its projects to preliminary assessment and will seek to avoid raising equity at current prices, which it considers to be unduly depressed and unattractive to issue equity at.
Exploration Work
Graphano owns a 100% interest in four graphite properties, all of which are within trucking distance of the LAB mine region which supports the Company's resource consolidation strategy to feed a centralized processing plant at LAB.
The Company is currently designing its next drilling programs with the support of Mercator Geological Services and with the aim of defining a resource that could be exploited in the near term to fulfill the upcoming demand for electric vehicle batteries that are planned for production in North America by 2026.
To date, 71 drill holes have been completed at the LAB and Standard projects for a total of 5,593 metres.
At the LAB project, drilling on three separate mineralized trends (Zones 1, 3 and the historical Orrwell Zone) have delineated substantial near surface graphite mineralization ranging from 1.0 metres to 14 metres in thickness and which remains open for resource expansion. Collectively, these mineralized trends at LAB are several kilometres in length and hold significant upside potential. Highlight drill results included 6.26% graphitic carbon (Cg) over 13.7 metres and 9.09% Cg over 8.0 m.
The LAB project exploration drilling to date suggests that the relatively high-grade LAB graphite horizons are locally folded and structurally thickened which can enhance the potential economics of the mineralization. This is similar to the Lac des Iles (LDI) deposit (Figure 1) that has been mined for over 30 years and is located immediately adjacent to Graphano's LAB property.
Lac des Iles mineralization model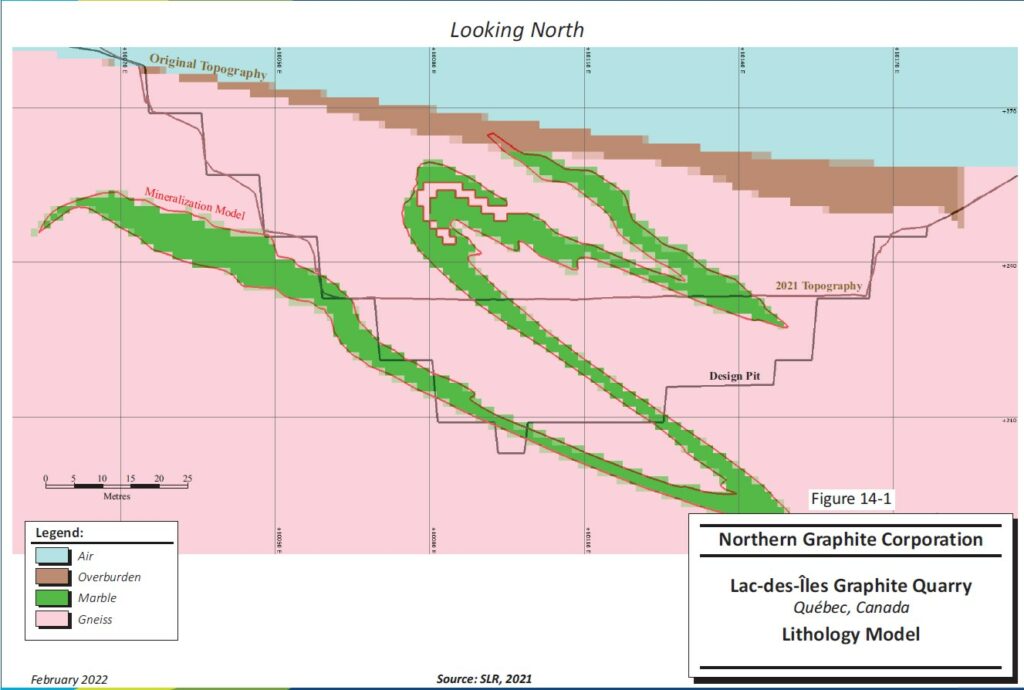 At the Standard project recent drilling, comprising 16 drill holes totaling 1,110 metres, and trenching programs have intersected very significant graphite mineralization and successfully discovered three major zones of mineralization. These zones have been tested from surface to a maximum vertical depth of approximately 60 metres locally and remain open in all directions for further expansion (see Figure 2). The mineralized zones have an interpreted combined length of more than 1,300 metres.
Map with the location of the trenches and drill holes at the Standard Project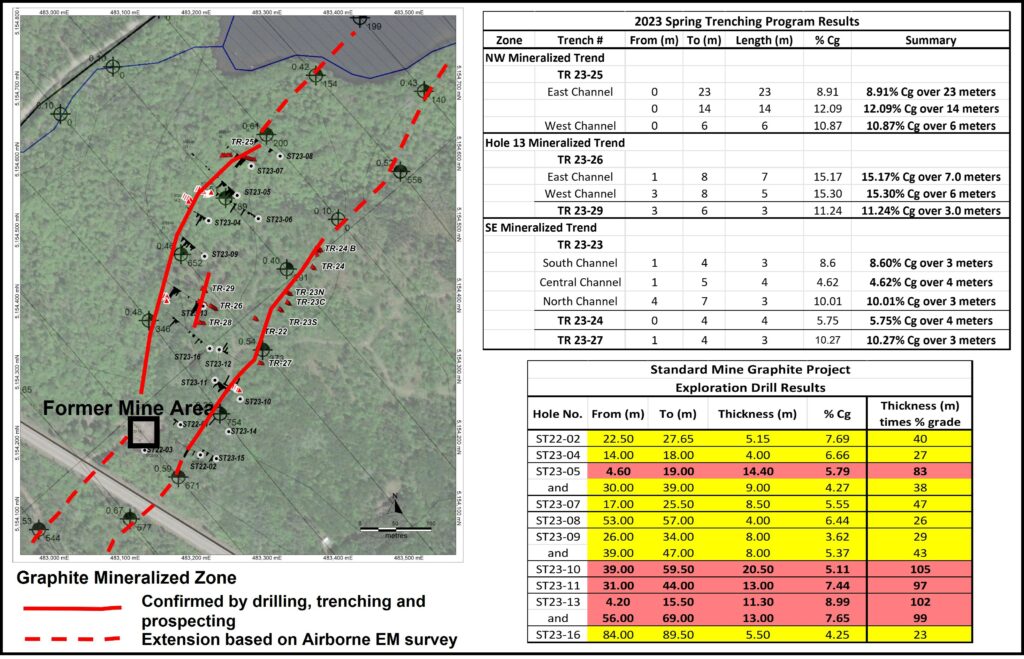 Qualified Person
The scientific technical content disclosed in this press release was reviewed and approved by Roger Dahn, B.Sc., P.Geo., Director of the Company and a "Qualified Person" as defined in National Instrument 43-101 – Standards of Disclosure for Mineral Projects, who has provided the technical information in this press release, and by Mr. Martin Ethier, Géo (#1520), who is a Member of the Order of Geologists of Québec and also a "Qualified Person" under NI 43-101.
About Graphano Energy
Graphano Energy Ltd. is an exploration and development company that is focused on evaluating, acquiring and developing energy metals resources from exploration to production.
Graphite is one of the most in-demand technology minerals that is required for a green and sustainable world. The Company's Lac Aux Bouleaux property, situated adjacent to Canada's only producing graphite mine, in Quebec, Canada, has historically been an active area for natural graphite. With the demand for graphite growing in some of the most prominent and cutting-edge industries, such as lithium batteries in electric cars and other energy storage technologies, the Company is developing its project to meet the demands of the future.
ON BEHALF OF THE BOARD OF DIRECTORS
Luisa Moreno
Chief Executive Officer and Director
E: info@graphano.com
Neither TSX Venture Exchange nor its Regulation Services Provider (as that term is defined in the policies of the TSX Venture Exchange) accepts responsibility for the adequacy or accuracy of this release.
Cautionary Note Regarding Forward-Looking Statements:
This news release contains certain "forward-looking information" and "forward-looking statements" (collectively "forward-looking statements") within the meaning of applicable securities legislation. All statements, other than statements of historical fact, included herein, without limitation, relating to future operations, including exploration, drilling and other activities of Graphano, are forward-looking statements. Forward-looking statements are frequently, but not always, identified by words such as "expects", "anticipates", "believes", "intends", "estimates", "potential", "possible", and similar expressions, or statements that events, conditions, or results "will", "may", "could", or "should" occur or be achieved. Forward-looking statements in this news release relate to, among other things, the Company's exploration plans, results therefrom, and the impact thereof. There can be no assurance that such statements will prove to be accurate, and actual results and future events could differ materially from those anticipated in such statements. Forward-looking statements reflect the beliefs, opinions and projections on the date the statements are made and are based upon a number of assumptions and estimates that, while considered reasonable by Graphano, are inherently subject to significant business, economic, competitive, political and social uncertainties and contingencies. Many factors, both known and unknown, could cause actual results, performance or achievements to be materially different from the results, performance or achievements that are or may be expressed or implied by such forward-looking statements and the parties have made assumptions and estimates based on or related to many of these factors. Such factors include, without limitation, the ability to complete proposed exploration work, the results of exploration, continued availability of capital, and changes in general economic, market and business conditions. Readers should not place undue reliance on the forward-looking statements and information contained in this news release concerning these items. Graphano does not assume any obligation to update the forward-looking statements of beliefs, opinions, projections, or other factors, should they change, except as required by applicable securities laws. We seek safe harbour.