Drilling Results Show Great Potential for Zone 3 at LAB Graphite Project
Vancouver, BC, February 8, 2023, Graphano Energy Ltd. (the "Company") (TSX-V: GEL; FSE:97G0) is pleased to announce results of the exploration drilling of Zone 3 on its 100% owned Lac Aux Bouleaux Graphite (LAB) Property in Quebec.
Luisa Moreno, Chief Executive Officer of the Company, stated: "The recent drill program has been very successful, with significant graphite mineralization being intersected in almost all the holes completed on Zone 3. Our drilling program to date suggests that the graphite mineralization at Lac Aux Bouleaux is structurally folded which can enhance the economic potential of the various zones of mineralization. We are encouraged to continue with the exploration drilling program for all the remaining zones followed by a comprehensive resource drilling program later this year. We are confident that we will define a compliant mineral resource to supply graphite to the western battery supply chain in the near term. Thus, continuing to make this region of Quebec the only source of graphite in North America."
A total of 25 drill holes were completed for a total of 1,779 metres. Given that surface mineralization was previously exposed during Graphano's trenching program intermittently along the length of Zone 3, most holes were shallow (less than 60 m) to test the immediate depth and thickness of the graphite mineralization. Twenty-three holes were drilled to evaluate Zone 3 over a length of approximately 500 metres. One hole was drilled in Zone 8 and another one in Zone 4. Highlights of the drilling results are provided below.
Highlights (see Figure 1 and Table 1 for details):
Zone 3 Target
Very successful drill program with 15 of the 23 drill holes (65%) intersecting significant graphite mineralization over the 500 metre length of Zone 3 tested by this first phase of exploration drilling. The mineralization outlined remains open for continued expansion. Results include:
Drill Hole LB22-33 intersected 6.26% graphitic carbon (Cg) over 13.7 meters (m) starting at 14.0 (m) drilled depth, including 11.95% Cg over 4.7 m at 14 m;
Drill Hole LB22-45 intersected 9.09% Cg over 8.0 m at 68 m;
Drill Hole LB22-52 intersected 7.17% Cg over 9.0 m at 36 m;
Drill Hole LB22-39 intersected 4.72% Cg over 11.6 m at 36.4 m , including 6.56% Cg over 6.6 m at 36.4m;
Drill Hole LB22-34 intersected 5.82% Cg over 9.0 m at 38.0 m, including 6.25% Cg over 3.50 m at 38 and 7.28% Cg over 4 m at 43 m;
Drill Hole LB22-32 intersected 6.28% Cg over 8.0 m at 18.5 m;
Drill Hole LB22-48 intersected 9.53% Cg over 5.0 m at 19.5 m
Zone 8 Target
Only a single drill hole completed to date, LB22-54, which intersected 4.12% Cg over 6.0 m at 26 m drilled depth which indicates significant potential for this virtually unexplored target. Based on airborne EM results the Zone 8 target has an approximate 1000 metre length requiring further exploration.
(Note: All intersections reported are based on drilled width and have not been converted to the true width).
One method of evaluating and visually demonstrating the exploration significance of a drill program and thus the indicated economic potential, is to calculate a drill hole's mineralized zone thickness multiplied by the zone's grade. The last column of the table on Figure 1 shows the thickness times metres values for LAB Zone 3 drill holes. The values greater than 25 (yellow highlight) are significant and those above 50 (red highlight) are very significant.
Figure 1 – Zone 3 drill holes map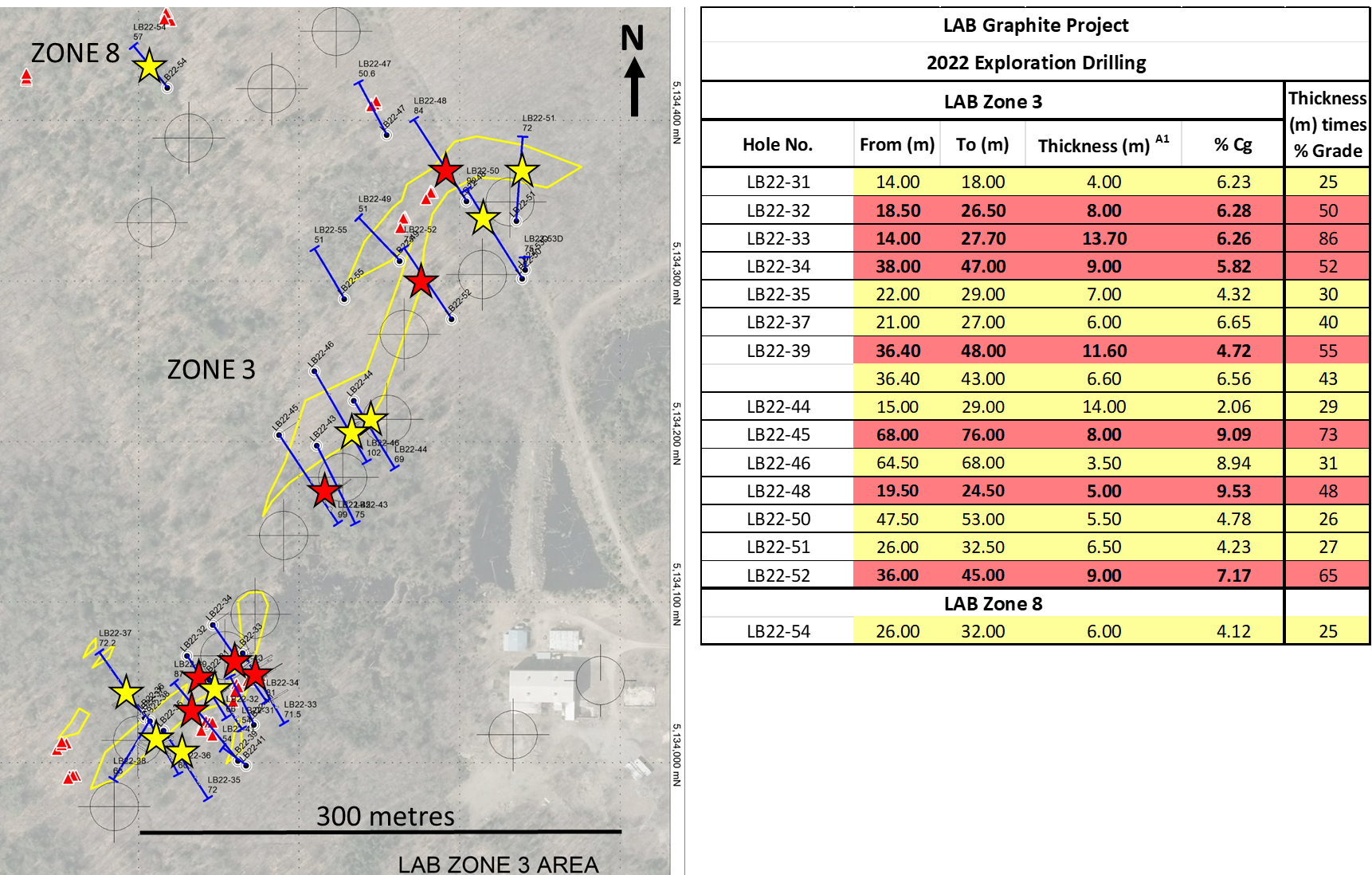 The exploration drilling to date seems to suggest that the relatively high-grade LAB graphite horizons are locally folded and structurally thickened, which can enhance the potential for economic mineralization. This is similar to the Lac des Iles (LDI) deposit (Figure 2) that has been mined for over 30 years and is located immediately adjacent to Graphano's LAB property.
Figure 2 – Lac des Iles graphite mineralization model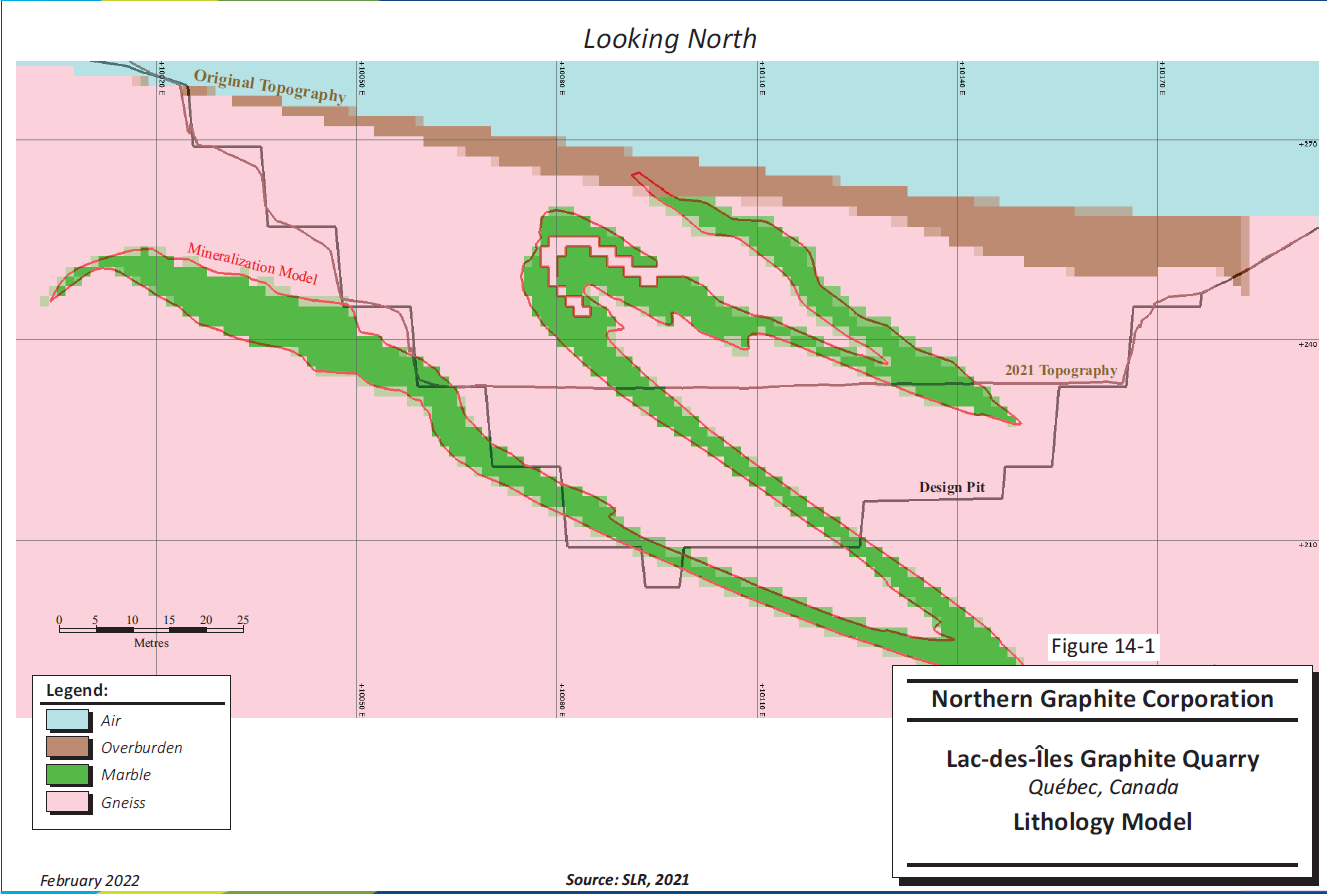 Source: Technical Report on the Lac-des-Îles Quarry, Québec, Report for NI 43-101, February 2022, SRL Consulting (Canada). Note: graphite mineralization in the green area.
Luisa Moreno, Chief Executive Officer of the Company, added: "The combination of the excellent  accessibility of the property and the near surface mineralized zones gives Graphano great encouragement for the development of LAB at a much faster pace than usual."
Zone 3 on the Property is one of the eight target areas identified from the 2015 airborne high-resolution magnetic (MAG) and time-domain electromagnetic (TDEM) survey completed on the LAB property. These targets were further explored through ground geophysical surveying, and prior to drilling, additional trenching and channeling sampling was performed to identify the best areas for drilling and orientation.
The majority of drill holes completed on the Zone 3 target intersected near surface mineralized horizons ranging from 1.0 meters to 14 meters in thickness (core length) over a 500 m length, thus far by drilling. The graphite mineralization observed during the drilling is hosted within a sequence of marble, paragneiss and quartzites.
Table 1: Drill Hole Results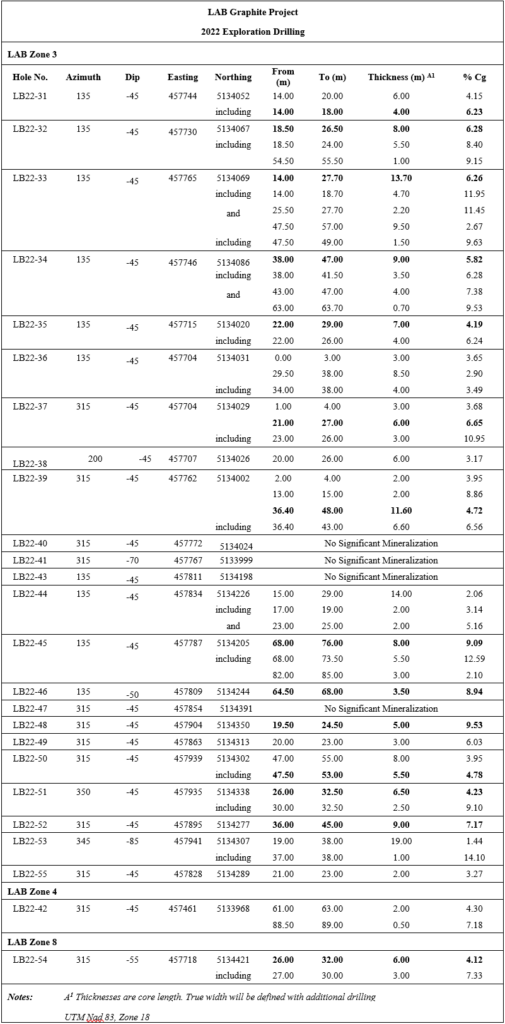 All drill core samples were bagged and tagged using best practices and were delivered to Activation Laboratories ("ACTLABS"), Ancaster, Ontario for sample preparation and analyses using laboratories' Code 4F-C Graphitic, analyzing C-Graphite (infrared) where the sample is subjected to a multistage furnace treatment to remove all forms of carbon with the exception of graphitic carbon; and C-Total (infrared). ACTLABS is an independent commercial, accredited ISO Certified Laboratory. The core samples also include field duplicates and blanks for quality control and quality assurance (QA/QC) purposes.
Qualified Person
The technical content disclosed in this press release was reviewed and approved by Mr. Martin Ethier, Géo (#1520) who is a Member of the Order of Geologists of Québec and a "Qualified Person" under NI 43-101, and Roger Dahn, B.Sc., P.Geo, a director of the Company, and a "Qualified Person" as defined in National Instrument 43-101 – Standards of Disclosure for Mineral Projects.
About Graphano Energy Ltd.
Graphano Energy Ltd. is an exploration and development company that is focused on evaluating, acquiring and developing energy metals resources from exploration to production.
Graphite is one of the most in-demand technology minerals that is required for a green and sustainable world. Our Lac Aux Bouleaux property in Quebec, Canada, has historically been an active area for natural graphite. With the demand for graphite growing in some of the most prominent and cutting-edge industries, such as lithium batteries in electric cars and other energy storage technologies, we are developing our project to meet the demands of the future.
ON BEHALF OF THE BOARD OF DIRECTORS
Luisa Moreno
CEO and Director
info@graphano.com
Cautionary Note Regarding Forward-Looking Statements:
Neither TSX Venture Exchange nor its Regulation Services Provider (as that term is defined in the policies of the TSX Venture Exchange) accepts responsibility for the adequacy or accuracy of this release.
This news release contains "forward-looking information" including statements with respect to the future exploration performance of the Company. This forward-looking information involves known and unknown risks, uncertainties and other factors which may cause the actual results, performance or achievements of the Company to be materially different from any future results, performance or achievements of the Company, expressed or implied by such forward-looking statements. These risks, as well as others, are disclosed within the Company's filing on SEDAR, which investors are encouraged to review prior to any transaction involving the securities of the Company. Forward-looking information contained herein is provided as of the date of this news release and the Company disclaims any obligation, other than as required by law, to update any forward-looking information for any reason. There can be no assurance that forward-looking information will prove to be accurate, and the reader is cautioned not to place undue reliance on such forward-looking information.
2015 Airborne survey target areas